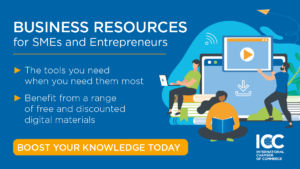 #SaveOurSMEs: In support of #SMEs everywhere, ICC is offering a range of essential business resources for free or at discounted rates.
Get your ICC E-Books
Purchase publications from ICC Albania: Download the Publication List and fill in the Order Form. Send the Order Form to [email protected].
From the ICC online bookstore: Click HERE.
PUBLICATIONS
ICC Publications provide resources for conducting international business; invaluable for bankers, lawyers, arbitrators and anyone involved in cross border trade. The content of ICC's publications is derived from the work of ICC commissions, institutions and individual international experts. In addition to the traditional paper format, ICC also offers practical e-books for which the delivery time takes only minutes.
Vital information for international business:
The list of products covers three broad categories – ICC rules and standards, practical guidelines, and reference works. The rules and accompanying guidelines, which form the core of the publishing programme, are updated periodically to take account of technical developments and the evolution of commercial and banking practices. The best known publications, Uniform Customs and Practice for Documentary Credits and Incoterms®, have been translated into more than 30 languages.